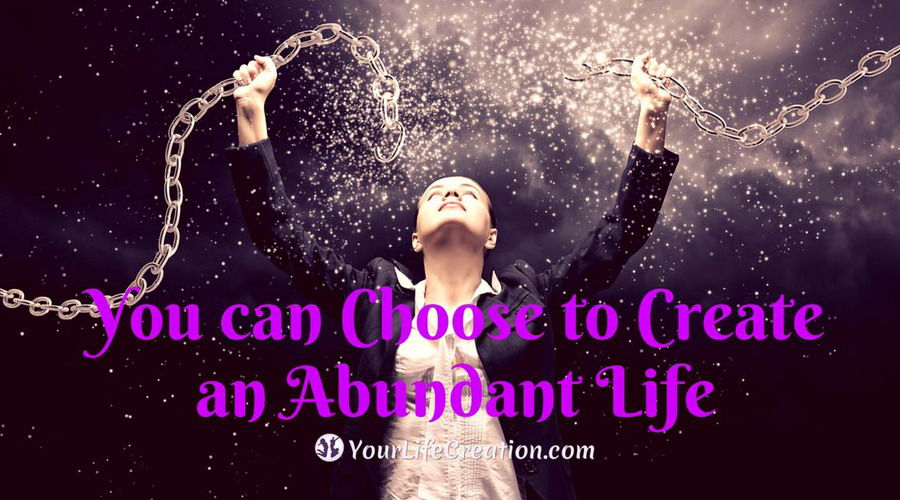 If you grew up in scarcity and poverty, guess what? You're not doomed to stay there. You can choose to create an abundant life. Lisa Nichols, America's #1 Breakthrough Coach, went from welfare to Wall Street. Watch this 3.5 minutes video where she shares her story. Download Lisa's free checklist, "Creating a 360-Degree Abundant Life," where she reveals her 24 rules for success that she used to make the climb.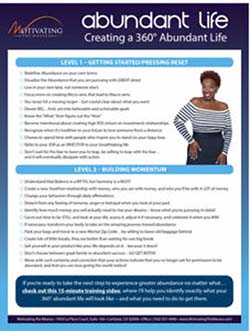 Video Transcript:
"I was at rock bottom, I was broke, and I was broken.
I got fired from five different jobs. And then I got pregnant with my son unexpectedly. And then at eight months, my son's father went to prison. I have to get on government's assistance to have my baby. I was on WIC "Women, Infant and Children" to feed my child. And when my son was eight months old, I went to the ATM to get $20 out the bank because I didn't have any Pampers for him. And in order to get $20 out, you got to have that $20 in. I had $11 and 42 cents.
And I still can't tell the story without getting emotional because it's my story. For two days I had to wrap my son in a towel. But something happened Steve in those two days.
Inglewood California. My son, laying on his back at eight months, I have a towel over him, and I have my hand on his stomach saying, "Don't you worry, Jaylani, mommy will never be this broke again."
And I made a decision. I was bankrupt, in every stinking thinking I had; I was bankrupt in trying to protect my pride. I was bankrupt in trying to be all that in a bag of chips and a bowl of grits, falsified; I was bankrupt in trying to not asked anyone for help; I was bankrupting in everything that was holding me and keeping me where I was.
I've always talked a good game, but I wasn't doing anything with my gift. And all that thing about potential, I was tired of having potential. I wanted to have my now. And I looked at that baby at eight months, and I said, "I want to transform your life because you didn't ask to come into this chaos." As an African-American male child in South Central Los Angeles, with a single mother whose fathers in prison, he had a 66% chance of going to prison himself. Not on my watch. Not on my watch.
So, if I have to be willing to drastically transform myself so that I can become the woman that I know I can be. And that's what I began to do. I was radical.
See, my grandmother said, that conviction and comfort don't live in the same block. If you are going to be convicted about something, you might have to go to some discomfort. But if you want to stay comfortable, why don't you just relax where you are? Because that's where you're going to stay. So, are you willing to reinvent who you are? Are you willing to kill away the procrastination? Are you wanting to kill away the excuses? The blame game?
I never let people to call me a single mom by my title. I'm Lisa Nichols, who happens to be a single mother. Don't define me by my circumstances. Define me by my intention.
At some point, I have to stop asking. Can I be great? Can I be brilliant? Can I be okay and still be accepted? I just stopped asking permission and just gave notice, unapologetically. Not in a braggadocious way. Not in a way that shrunk anyone else. In a way that said, "I only got one life, and I'm going to ride this one until the wheels fall off. And that was the beginning of me rescuing myself. I realized that I am my rescue. No one else is my rescue. I am my rescue.
What's been your biggest accomplishment you think? Bouncing back number one is refusing to listen to the negative chatter my own head. Refusing to listen to other people's perception of me. Creating something from absolutely nothing.
There's the books, there's the TV, there's all that stuff, but my biggest accomplishment is being willing to give myself a thousand second chances and every time I got to 999, I press reset.
Lisa Nichols, my girl. Love it."
Abundant life isn't something you wish for. It's something you create – by making extraordinary choices, adopting a radical new mindset, and taking inspired actions.
That's why I'm encouraging you to get "Creating a 360-Degree Abundant Life," a new resource from my dear friend Lisa Nichols.
Lisa is one of the world's most-requested motivational speakers, as well as a media personality and corporate CEO whose global platform has reached and served nearly 30 million people. From a struggling single mom on public assistance to a millionaire entrepreneur, Lisa's courage and determination has inspired fans worldwide and helped countless audiences break through, to discover their own untapped talents and infinite potential.
In "Creating a 360-Degree Abundant Life," Lisa distills the process of creating abundance in all areas of your life down to 24 critical guidelines.
Abundant life is your Birthright!