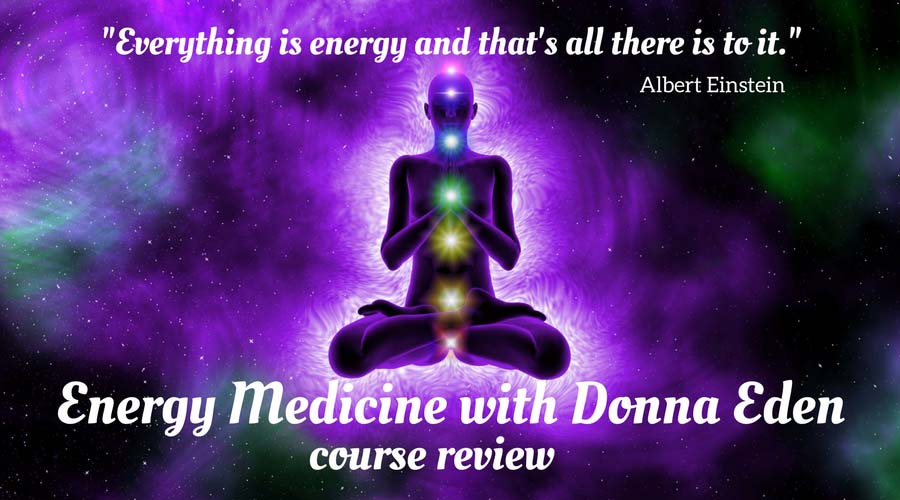 When it comes to learning about Energy Medicine and having experience with, Donna Eden is the superstar. She communicates with warmth and truth that is so genuine that it's simple to understand how she became so popular and was able to share her knowledge with so many people.
Donna Eden is one of the true pioneers in the field of Energy Medicine and for over 35 years one of its most sought-after and authoritative spokespersons. Donna has been able to see the body's Energy Systems since childhood clairvoyantly. Her healing abilities are legendary, and I can personally attest that learning Donna Eden's methods is an utterly joyous experience. With this unique capability, Donna can define the hands-on practice of Energy Medicine with an accuracy that matches the biochemical paradigm of Modern Western Medicine.
"Energy Medicine," her best-selling book, is the classic in its field and translated into 18 languages. This book is won the Top Novelist Book Award and its sequel "Energy Medicine for Women" won Gold Awards and two National competitions. Donna and her husband David Feinstein, lead the world's largest organization teaching Energy Medicine. They have trained more than 800 certified practitioners around the world. Dr. Jean Houston called Donna's energy work "Perhaps the most brilliant comprehensive and effective system in the genre that I have ever seen."
So What is Energy Medicine?
Energy is everything, and Albert Einstein said that over a hundred years ago "Everything is energy and that's all there is to it." We are not solid, but we are lattice works of force fields you can learn how to dialogue and interact with that.
Energy Medicine is the oldest, the safest, the most organic, and it's the most accessible medicine that is. When you begin to see medicine or life through the lens of energy, a whole new world opens to you. A really important truth to know is that your body was designed to heal itself. It's in your ancestral bones; it is your birthright.
Two and a half million years ago, our ancestors would not have survived had they not known how to heal one another. And healing one another also opens the heart to love more, having more compassion.
Anyone can learn to do healing and can turn on that self-healer in them. It is no longer enough just to survive. We must evolve to be able to counter all the stresses in our world today. We have electromagnetic energies in the way of electricity, in microwaves, we have chemical pollutants, in the air we breathe, and in what we eat.
Energy Medicine can help you to counter those pollutants, those toxins. You will learn how to rid your body of those things you have already taken in. It will help you to handle disease and stress, and provide you with ways to generally be healthier. And it is not just about staying well or healthy in the sense of not being in disease. It is also about your experience, the way you learn, or how you take in information. Then there's the energy of movement and expression and hearing and feeling and seeing. All of that is energy.
Energy Medicine includes 9 Energy Systems:
1. Meridians
2. Chakras
3. Aura
4. Radian Circuits
5. Triple Warmer
6. Celtic Wave
7. Five Rhythms
8. Electrics
9. Basic Grid
While there are people who can see Chakras or Aura, like me, Donna Eden can see an additional eight systems.
How is Energy Medicine Practiced?
Energy Medicine uses methods from time-honored traditions such as qi gong, yoga, acupuncture, and kinesiology. Harmony, balance, and flow, can be non-invasively maintained and restored within your energy system. With simple techniques like massaging, tapping, twisting, pinching, or connecting specific energy points (acupoints) on the skin. Or by tracing or swirling the hand over the skin along specific energy pathways. Postures and exercises are designed for particular energetic influences; by focused use of the mind to move specific energies; and by encircling an area with healing energies.
Energy Medicine course is a valuable source for anyone who wants to take control of their well-being and personal health.
If you are open to studying about energy and the ability to help strengthen and influence our own energies, then this course has so much to offer you. And if you are trying to understand better this complex subject or how Energy Medicine can serve you, I can not think of a better way, to begin with.
This course will be ideal for you if you:
Fascinated by Energy Medicine and would like to learn from one of the best teachers in the world.
New to Energy Medicine and desire to understand better how you can use it to improve your health, vitality, and happiness.
Want to support your children to be happier and more balanced and provide them an advantage when it comes to resilience and self-confidence within themselves.
Have health challenges that you are struggling to deal with through traditional methods of treatment or even complementary therapies. Energy Medicine is the missing part of the puzzle while nothing else works and can be the difference between other methods working or not working.
Someone who craves to feel you are in peak shape to meet the needs of your life.
Consider becoming an Energy Medicine practitioner, but you are not sure about that and you would prefer to 'get your toes wet' to know if it is a good fit.
Own Donna Eden's Energy Medicine book, but want a complementary practice to go with that to gain more experience.
Would like an introduction to Donna Eden's overall four years long certification course. And you would like to get an overview of the sorts of things you will be learning.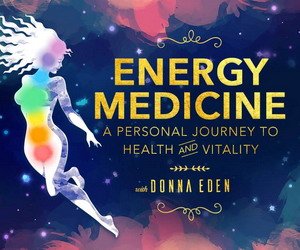 Price: $795 instead of $1095 or in 3 installments of $299 each for a total of $897
Exclusive Offer for a limited time only: $349 or 3 easy installments of $129 each for a total of $387
Join the Free Masterclass and purchase the course immediately after at a huge discount: $299 or 2 payments of $159 each for a total of $318
Hours required per week: around 2 hours max to go through the materials, and then whatever you want to practice in your own time or review again.
Money Back Guarantee: Unconditional 30-days
Join NOW and Harness the Incredible Power of Energy Medicine
The course is designed to help us boost our own stamina and immune system and stay balanced and healthy. It does this by teaching in a simple to understand language and illustrations. With easy exercises and routines that designed to balance and boost your energy.
You'll learn FIVE of nine Energy Systems with 50 plus Energy Medicine techniques that will help you to transform your life and get fast, lasting results in the shortest time possible.
This fantastic course designed as an 8-week transformational journey to help you identify and correct any irregularities, weaknesses or missed opportunities in energy that may be stopping you from living life to your full potential.
Each of the eight week-chapters includes:
An hour long lesson in video and audio formats with a Handbook for this chapter
Engaging Q&A session in video and audio formats
Incredible Energy Medicine Dance tutorials
By the end of the course you will have:
1. Basic understanding and direct experience of your body's interrelated Energy Systems, and how to influence them to generate self-healing, greater vitality, and be happier.
2. Ability to use practical energy methods to reduce pain, overcome illness, counter the effects of stress, maintain health, build resilience, and experience greater vitality.
3. Ability to use energy methods for realizing your personal potential.
Here are the topics that covered:
Week One – Using Energy Medicine to Fuel Your Vitality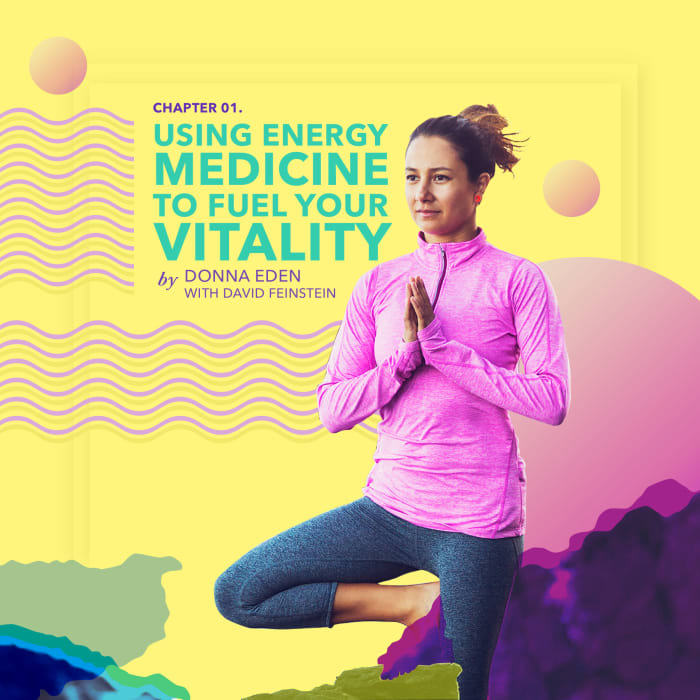 Donna and David will introduce you to Energy Medicine, the nine Energy Systems, and the benefits of learning your body's energy language.
You will:
Become better attuned to your body's signals and needs.
Learn how your own energy affects others.
Clear the energy blocks to restore healthy energy flow.
Learn the Daily Energy Routine (DER) exercises to balance many of the nine Energy Systems.
Week Two – Clearing, Grounding, and Balancing Your Energies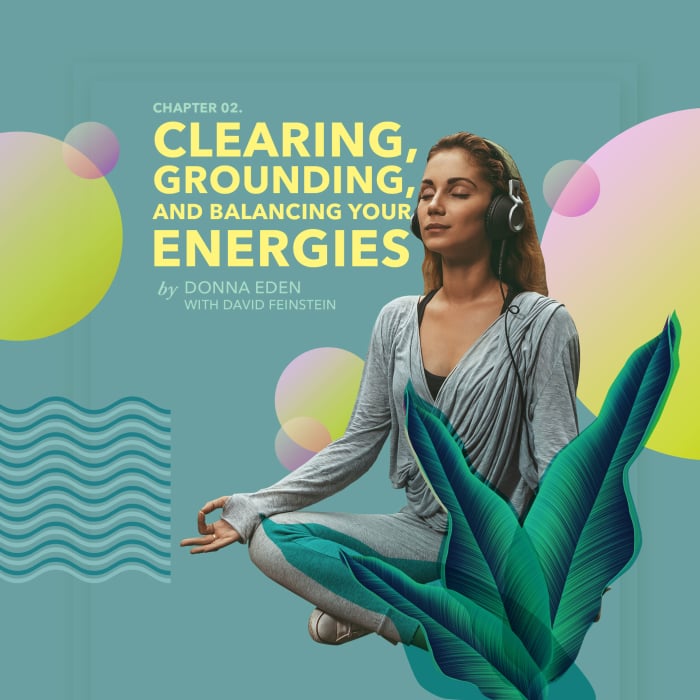 Clearing, centering, and grounding our energies regularly from unnatural environmental energies, additives in the foods we eat, and other people's negativity, prevent or reduce the negative impacts on our minds, bodies, and spirits.
You will:
Learn a range of simple and practical techniques you can use to clear, ground, and balance your energies.
Find out how to align with the Energies of the Earth
Week Three – Befriending Triple Warmer & Spleen Meridians to Relieve Stress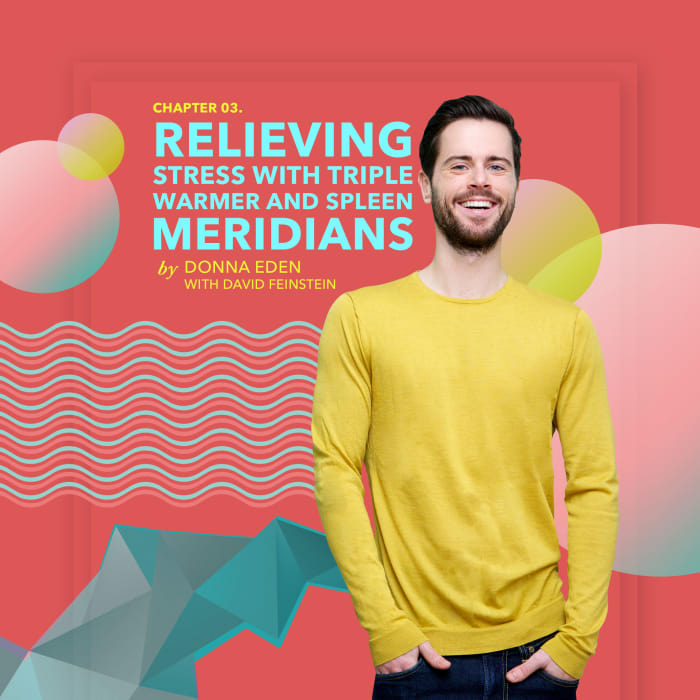 This week you'll explore the effects of stress on your energies, mind, body, and spirits and how you can prevent or minimize the stress impact with a range of simple Energy Medicine tools.
You will:
Learn how the meridian system works to fuel your body.
Discover how to use the Meridian Flow Wheel, a practical tool for understanding how meridians work as a connected system.
Learn how to maintain a healthy balance between Triple Warmer and Spleen meridians.
Follow along as Donna and David display a range of practical exercises to re-balance the meridians, reprogram your response to the stress, and how to accelerate your journey to vitality and joy.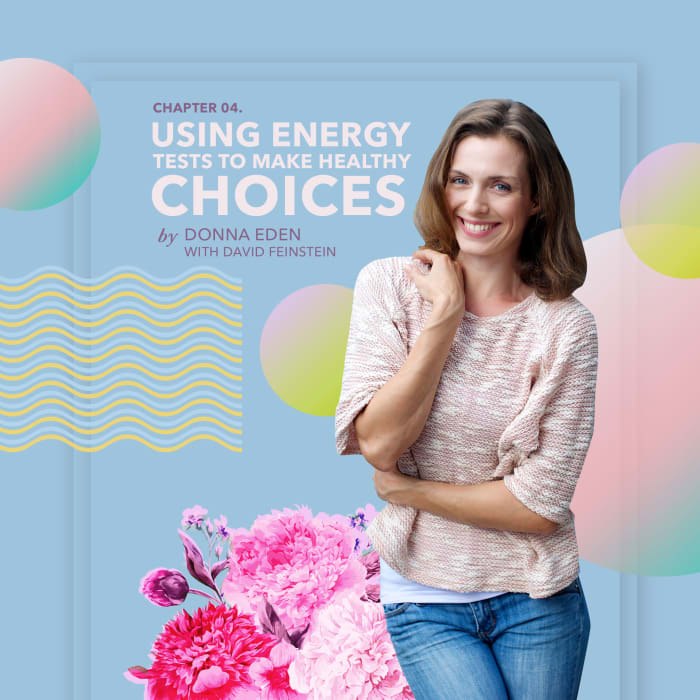 Week Four – Using Energy Tests to Make Healthy Choices
This week is all about Energy Testing. Energy testing is a focused way to tune into the language of your body and the flow of the body's energies.
You will learn how you can use this useful biofeedback mechanism to check your body's response to food, supplements, personal items, environmental conditions, and even energy exercises.
Week Five – Working With Pain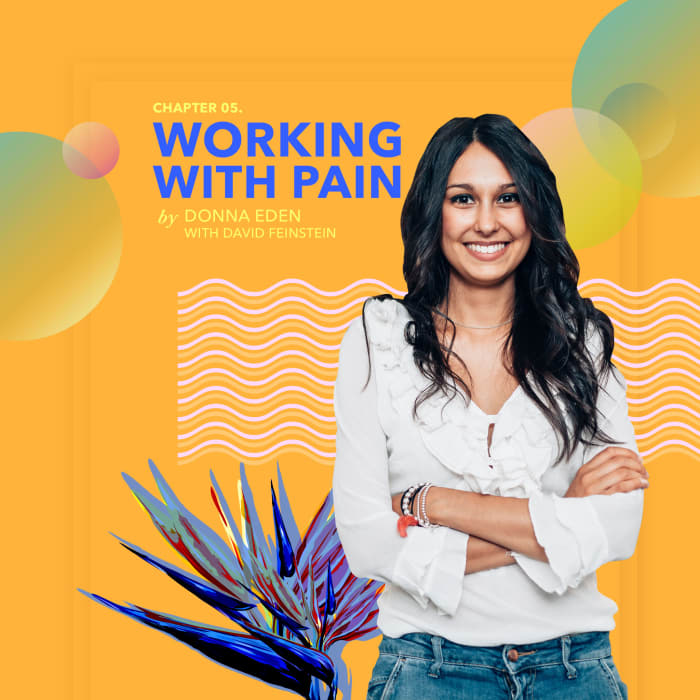 This week covers everything about physical pain and what is it telling you. What is the difference between conventional medical treatments for pain and an Energy Medicine approach.
You will:
Discover how any of the techniques in the Daily Energy Routine might address pain.
Learn a number of simple and practical Energy medicine techniques and first aid tools to reduce and often eliminate pain.
Personal note: I learned a very easy technique to eliminate my lower back pain that I dealt with for several weeks. I was shocked how this simple exercise literally ended the pain in seconds.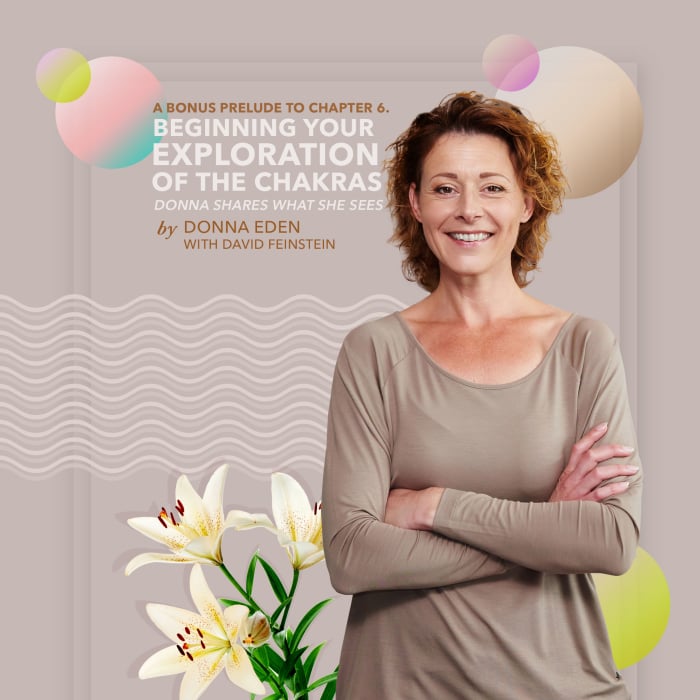 Prelude to Week Six: Beginning Your Exploration Of The Chakra's
This is a bonus chapter that will provide you with information about the Chakras. Donna is sharing the major insights from her personal experience of seeing people's Chakras. You'll get a firm foundation on how to work with Chakra clearing and balancing before you start the Week Six of the course.
Week Six – The Chakras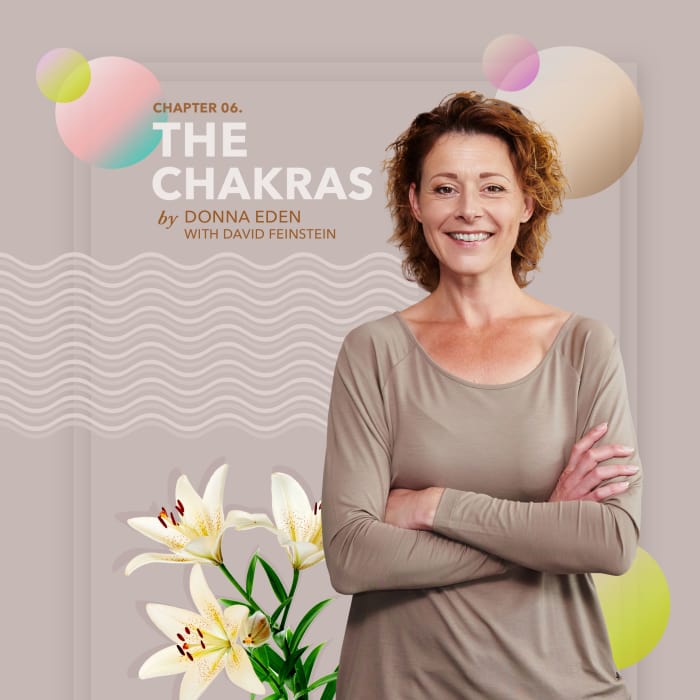 Chakras are one of the most powerful Energy Systems we have. Because they store memories, the chakras can influence your sense of identity and your response to current experiences.
You will:
Get a full introduction to the chakras with primary themes of the major chakras.
Discover the physical, psychological, and spiritual functions of the chakras.
Find out how to energy testing chakras.
Learn how to clear, balance, and strengthen your chakras and the energetic connections between chakras.
Week Seven – The Aura – Your Energetic Space Suit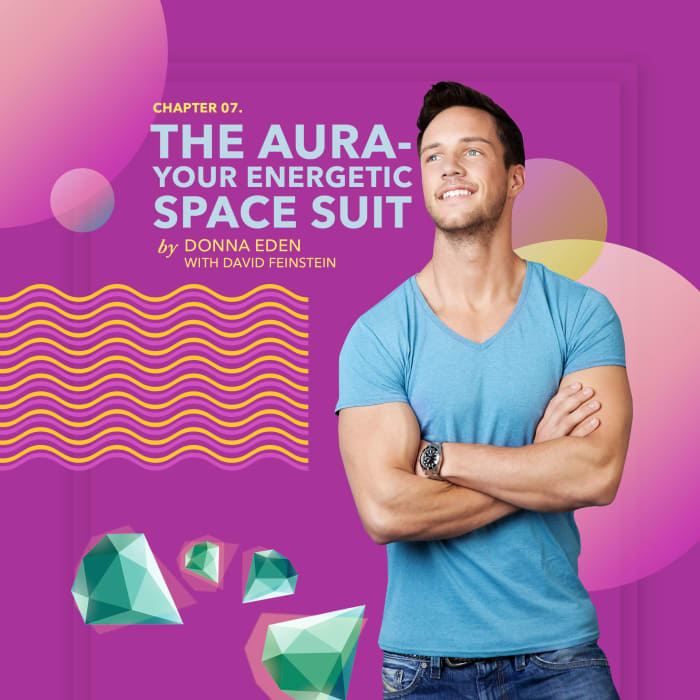 Aura is an Energy field which surrounds and permeates our physical body. Also called "the biofield," the Aura serves two seemingly opposing functions. Similar to a spacesuit, it helps you to keep discordant energies away from your body. And as a radio antenna, it helps you to channel the harmonious energies into your body. The Aura is a sensing, pulsing set of interrelated energy fields that are the blueprints for your body and mind. Furthermore, it holds and transmits holographic information about who you are and how you will develop physically. Giving instructions to the cells and communication centers of your body on how to organize themselves.
In this week you will:
Get an introduction to the structure of the Aura, the layers of the Aura and how to test its health.
Discover how you can recognize and correct a detached or collapsed Aura to support balanced energy flow in the auric field.
Find out how you can protect your energies from the influence of others.
Optimize your connection to the Universe.
Learn simple ways to clear, strengthen, and balance your Aura.
Week Eight – Radiant Circuits – The Energies of Vitality & Joy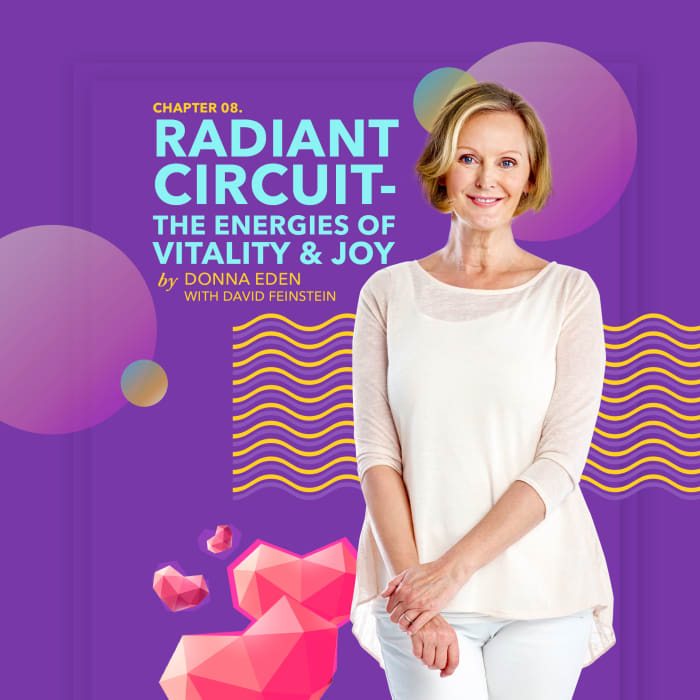 This week covers the Radiant Circuits. And everything you need to know about the benefits they bring to your health and vitality. The Radiant Circuits are about joy. They are a magical, spiritual energy that can take you to your knees in gratitude. The Radiant Circuits instill strength, resilience, spontaneous healing, and vitality in the body. Beyond doing repair work, the Radiant Circuits are also primary energies in exhilaration, falling in love, orgasm, hope, gratitude, rapture, and spiritual ecstasy.
In short, bliss is not lightweight energy.
You will:
Get an introduction to the Radiant Circuits as a system. How to strengthen several of the ten individual Circuits and what Individual Radiant Circuits do.
Find out how Radiant Circuits fuel your Energy Systems to connect you to wellsprings of joy, and spark higher experience and growth.
Learn the ways you can naturally tap into your Radiant Circuits.
Discover the easy turn-ons; short and simple exercises that plug you into Radiant Circuits.
Conclusions:
This course is one of the most incredibly easy to follow. Donna and David make the learning accessible for all levels. Whether you're a professional healer or just someone who wants to learn healing techniques to help yourself and your family.
For me, as a Reiki Master, this course is a perfect addition to what I already know, do, and love. I continue to be astonished by the benefits of just 5 or 10 minutes of energy practice per day. I can't recommend this enough. Check out what other students say about this incredible course.
Join NOW and Harness the Incredible Power of Energy Medicine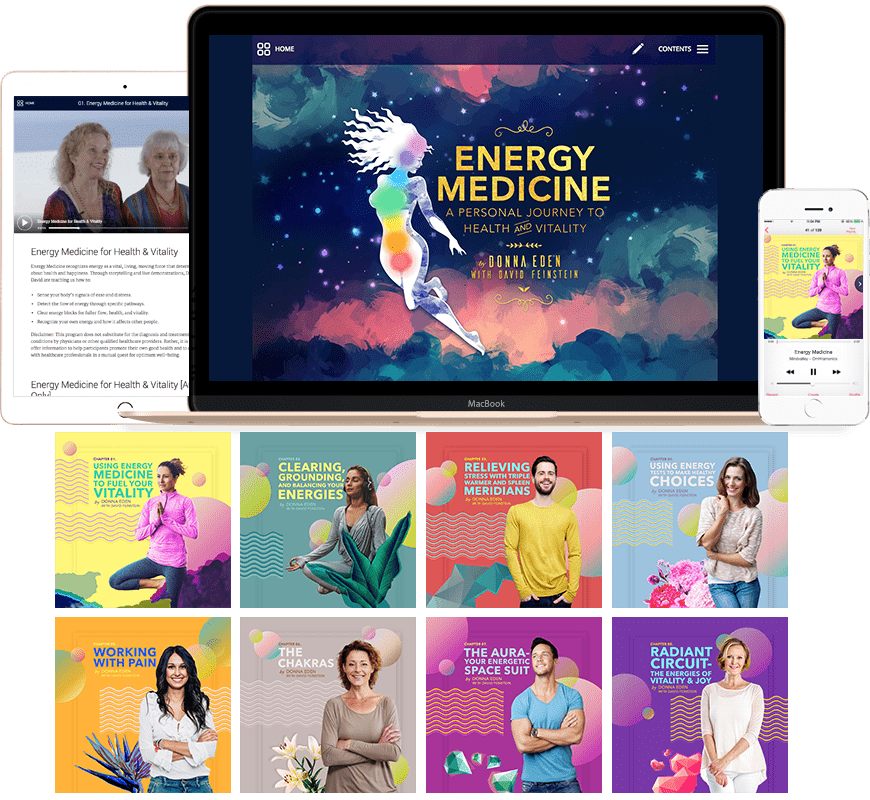 Join NOW and Harness the Incredible Power of Energy Medicine