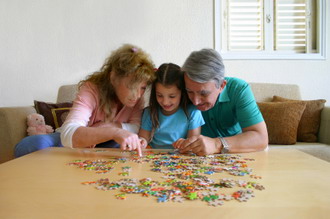 There are games for positive thinking available for both adults and for children. Not all of these games marketed exclusively under the banner of positive thinking. But regardless of their category, deal with some elements that match up with positive thinking learning essentials. These games are really essential to understand whether you think positively or negatively and to what extent. They are a useful tool also to get some insight into what kind of a person you really are.
Games for business-based training use activities that remove people from their usual work environment. They create brand new opportunities to experience achievement, winning, team work and personal development that are normally unavailable in their current jobs. Learning to experience, these positive situations permit the conscious and subconscious visualization of the success and achievement they must have to raise their sights, set new and more positive goals and objectives and boost their motivation. Many of these are role-playing games and exercises that are truly effective for visualization and motivation. Some negative people don't like role playing games that take them out of their accepted mindset, so these games help them with the shift.
Personal development games designed to help the players gain insight into their thought processes and analyze whether they are negative or positive. They remind people about how powerful positive thinking can be and the importance of being positive toward others. There are also in-class exercise games that teach clinical psychology with broad applicability to self-insight and group dynamics activity.
Games for young children recognize that positive thinking is best to begin when minds are young and in the formative stage. Some typical game titles include Dr. Playwell's Best Behavior Game; Positive Thinking Game and Dr. Playwell's Positive Thinking Card Game. The latter is interesting in that it teaches children four vital positive thinking skills of recognizing self-defeating statements, changing negative thoughts to positive thoughts, seeing positive ways to cope with problems and how to use positive self-talk. These games priced from $22 to $55 each. Although these might seem a bit expensive at the first thought, but it's a very small price to pay for a positive and healthy life.
Games for positive thinking can be effective training tools
for the very young and adults alike. After all, you are never too young or old to play a game. Especially if it helps to live a better life.
The Mental Games multimedia software analyzes the tiny changes in your skin resistance values (GSR) sent by your ThoughtStream(tm) USB biofeedback system to your personal computer. Training modules of Mental Games analyze and respond to how much you are focused or relaxed and will change their response according to your mental state.
Using this combination of multimedia technology and biofeedback, you enter a new dimension of personal training. Playing Mental Games will help you to change your habits regarding learning, concentration and relaxation. You may soon notice that you are more relaxed in your everyday life, being more present and focused without "burning out." You will learn different strategies of interaction your own strategies-preserving and develop your valuable inner resources.