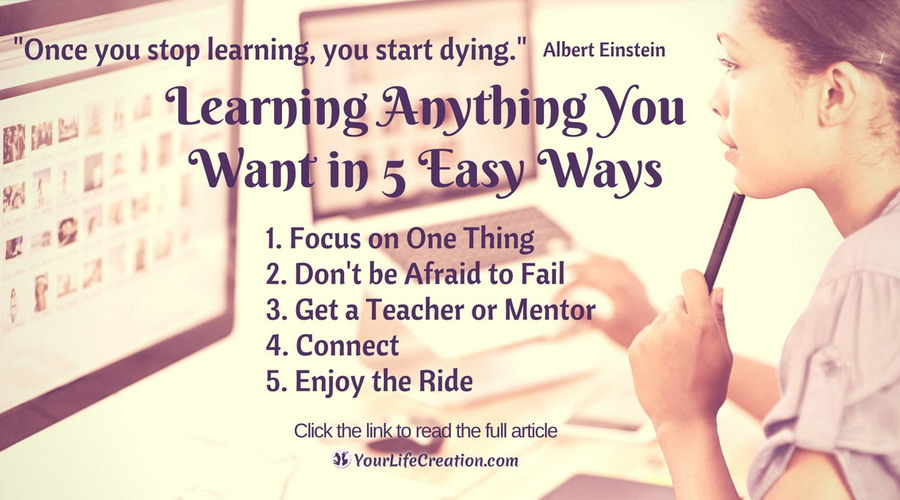 I'm sure there are times in life when you feel like you have (nearly) everything figured out, and others when you feel you know nothing at all. But one thing is for sure. We never stop learning. Every experience teaches us something new, and that's something we can be grateful for.
"Once you stop learning, you start dying." Albert Einstein
In this ever-changing world, I'm continuously striving to learn new skills, and when I sense any doubt, there are 5 things I like to remind myself of so that I can keep pushing through. I hope they help you too:
1. Focus on One Thing
Ask yourself: What area of life can I focus on right now? What's that one step I can take today? Choose one thing. Study it and shut out the outer world.
Being specific and focusing on one thing makes it much easier to avoid feeling overwhelmed and giving up.
2. Don't be Afraid to Fail
If you want to learn a new language or dance salsa, you'll most likely have to practice repeatedly until you get the right pronunciation or the right moves. So don't try to avoid feelings of frustration. Embrace uncertainty as part of the process.
3. Get a Teacher or Mentor
If you try to learn Spanish on your own, most likely, you'll end up feeling frustrated before you conquer it. I encourage you to find someone who's more experienced than you, watch and learn from them.
Set a time each week to ask your teacher/mentor tons of questions, have them give you assignments, and most importantly, ask for feedback.
4. Connect
Simply said: you can't remember what you don't connect with. In fact, many memory experts say the best way to remember anything is to associate it with something that you already know.
If there are no mental "hooks" for this new knowledge to catch on, it tends to go in one ear and go out the other.
5. Enjoy the Ride
It's easy to feel frustrated when we feel we're not making progress, or that things are moving too slowly. Yet, the answer is to forget about the speed of our progress, and instead focus on enjoying the process of learning.
When we're enjoying ourselves, we can relax and learn faster instead of focusing on where we want to be; we can relax and learn faster. We can be grateful for where we are, and for having the opportunity to learn at all. If you've fallen down, then acknowledge the progress you've made so far.
It's like going on a road trip. Rather than getting anxious about when you'll arrive at your destination, enjoy the music, the scenery, and the beauty around you. See, learning is an exciting opportunity to experience something new, to play and have fun.
And remember: Knowledge is power, and power is freedom.