I would like to offer you a very special gift. Mentors Channel, in collaboration with Arianna Huffington is presenting On Becoming Fearless, a 21 Day Meditation program, beginning Monday, March 31. Arianna is the innovative leader and CEO of the online media giant, Huffington Post, and a prolific author.
"Fearlessness is not the absence of fear….It's about getting up one more time than we fall down…(we can learn) to think new thoughts, try new things, take risks, fail, start again, and be happy." Arianna Huffington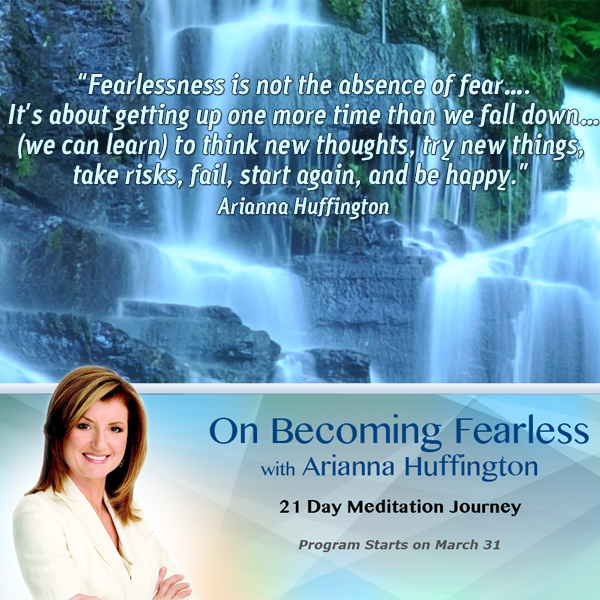 Arianna will share her story as well as those of other women, by reading relevant passages from her best-selling book, On Becoming Fearless in Love, Work, and Life. Meditating on one theme per day will activate these important keys on a profound level – the depths of your inner being. Register now to explore and develop your self-acceptance and self-confidence. This free, online program will focus on topics such as: Approval from Within; Dealing with Divorce: The Fear of Aging: The Perfection of Imperfection, plus many more.
This profoundly important program focuses on the innate power available to each and every one of us and how to live fearlessly in every aspect of our lives. What better gift can you give to your loved ones than to teach them to be fearless?
Our growing, global community of meditators is so excited about stepping into their own fearlessness and passing this crucial way of living onto their friends and loved ones. Here are some of the early Facebook comments:
Celestine Lipsey… So looking forward to this Program, wish it would start sooner!
Kathy Lutz… Excited! Wish we didn't have to wait until the end of this month!
Judy Cooper… Cannot wait, very excited
Please mark your calendars and join us on Monday, March 31, for the first day of a journey into boldness, increased confidence, and fearlessness. You will be so glad you did.
Now is the time for you to embrace your power and boldly, yet lovingly, take charge of your life. At the end of this journey, you will wake up with renewed optimism, resolve, and a firm commitment to live life as the fearless person you were created to be.
Unfortunately, the program is closed.