Abraham – as translated by Esther Hicks – recently gave the definitive explanation of what they mean when they talk about alignment with Source Energy and being in the vortex.
At the end of the workshop, after spending a long segment with a workshop participant who was struggling with circumstances that seemed overwhelming, Abraham gave perhaps the most passionate and amazing rampage they have ever given. The emotional reaction of the workshop attendees confirmed its power as a touchstone for anyone wanting to know when they are in, and when they are out of, their Vortex of Creation – where the only reality that serves us truly exists.
Recorded on June 20, 2009, at an Abraham-Hicks Law of Attraction Workshop in Boston, Massachusetts.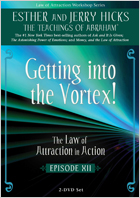 For nearly 25 years Esther & Jerry Hicks have produced books, audio recordings, and videos based on the Teachings of Abraham, and their latest book, entitled "The Vortex", is currently on the New York Times bestseller list.
Esther explains that when she speaks for Abraham, she is interpreting blocks of thought from Non-Physical Source Energy – which she also sometimes identifies as her "Soul". Esther doesn't use the word "channeling" to describe her process, since she is not in a trance and is not hearing a voice in her head. Rather, she has trained herself to verbally interpret the same unerring Inner Guidance that is available to all of us.